Get to know Brian
Brian is a proud St. Cloud State University Alumni. It was his years at SCSU that cemented his desire to work in television production and provided him his first intoxicating opportunity to work in a live sports production. Brian was part of the student founders of Husky Productions, an all student run production covering the University's hockey team. It was during that time that Brian obtained his skills in lighting, camera, editing and content development. Brian's post-collegiate career began as a producer, director and EIC for high school sports at St. Paul Neighborhood Networks. After SPNN, Brian moved to the fast action of live television at Conus Communications as a Satellite Control Room Technician and then on to the Production and Satellite Services Division where he continued his work as a Satellite Uplink Operator. It was there that he gained extensive field and engineering experience working with clients such as ESPN, Showtime, Fox Sports, ABC, CBS, NBC, CNN and HBO. At Conus, Brian played a major role in rebuilding the Production and Satellite Services Division. When Conus Communications restructured in 2002, Brian joined with Todd and Shawn in forming ARCTEK Satellite Productions LLC.

In addition to ARCTEK, Brian is Executive Producer of Husky Productions at his alma mater, SCSU. The award-winning college sports production currently provides coverage of the university's Division 1 men's hockey team as their flagship production. Brian enjoys introducing the students the excitement and challenges of live sports productions as well as challenging them to match the content and quality they will be expected to bring in their professional careers.

Brian is a native of Omaha but lived in multiple places during his childhood until Minnesota ultimately became home. He follows Huskers and Minnesota Vikings football. In the summer, Brian races mountain bikes in a local circuit. He enjoys motorcycling and paddle boarding as well as trips to Cozumel. He and his wife, JK, have been married for over 20 years and have the world's most awesome cat "Z". It's been said if you find the perfect job you will never have to work a day in your life. Brian found his in television production.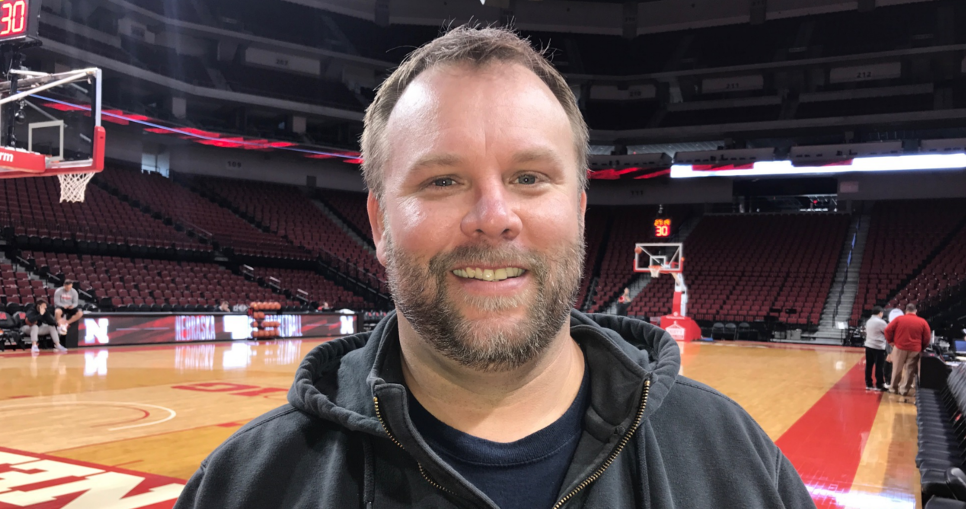 Get to know Ray
Ray attended Mitchell Technical Institute from 2007-2009 where he received his A.A.S. degree in satellite communications. While at MTI Ray worked with component level electronics, and studied RF Theory. He learned equipment operation and the complex signal flow via the MTI mobile uplink truck.

In 2009 Ray moved to Houston, Texas to work for Harris CapRock Communications. Beginning as a Commissioning Technician where he was responsible for commissioning VSAT systems to FCC standards, coordinating field service dispatches, keeping ops in check and resolving customer issues. Ray moved into the NOC Controller position where he was responsible to identify network issues and take appropriate steps to restoration. He provided direction to customers and field service technicians during the troubleshooting process. As he gained more experience he became a Shift Lead for the largest global provider of satellite communication solutions. Ray used his unique combination of technical expertise and managerial experience to lead the implementation of mission-critical communications systems.

In 2014 Ray moved to Wisconsin in order to be near his family and joined the ARCTEK team as a Mobile Satellite Uplink Engineer. Ray runs ARCTEK Purple, one of our C-Band trucks. Ray Rocks! Why you ask? His work ethic is second to none. He knows what he's doing and does his job to perfection. Plus our client's love working with him!

When he's not on the road making TV happen, Ray enjoys being with family, riding his motorcycle and making delicious BBQ on his smoker.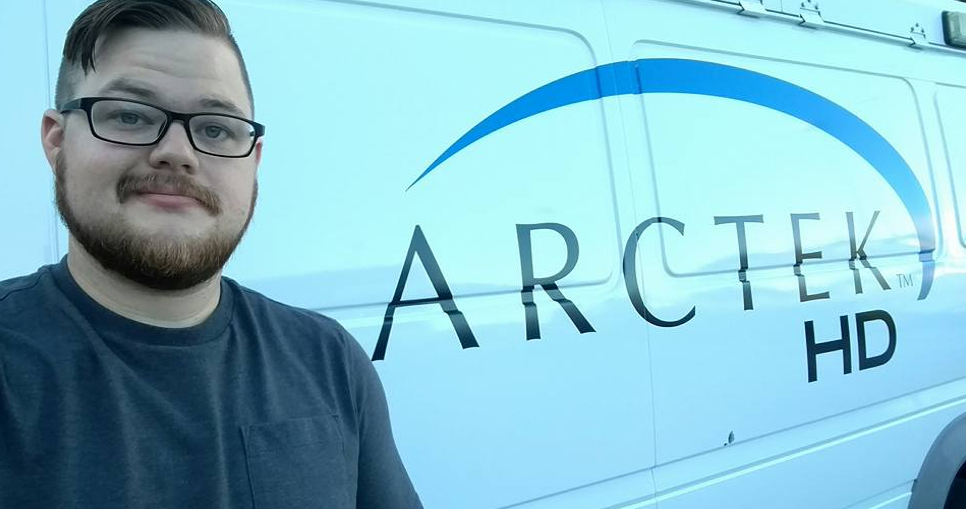 Get to know Nick (a.k.a Bear)
Nick earned his Mass Communications degree from St. Cloud State University with an emphasis in radio/TV broadcasting. During his studies Nick worked for Husky Productions, an all student run production covering the University hockey team, as an audio engineer and at KVSC, the local campus radio station, as the production director and the producer/audio engineer for Monday Night Live, a weekly live music show simulcast on radio, TV and the web.

After graduation Nick worked as the production director for 5 radio stations at Tri-County Broadcasting and was an on-air DJ for Rockin' 101.7FM in Sauk Rapids, MN. At the same time he was gaining some management experience at a local hardware store. In his spare time he completed the certification process to be a Crossfit Instructor and began working as a voice actor with Talent Poole in St. Paul.

Nick came on board ARCTEK in 2014 as a Mobile Satellite Uplink Engineer. He initially ran ARCTEK Orange, one of our KU-Band trucks. After mastering Orange he moved to ARCTEK Red, KU-Band as well. Nick uses his creative side to bring a new perspective to project management tasks. He understands the importance of quality customer service and embodies the ARCTEK ideal of going above and beyond. He provides a constant reminder of the importance of dedication.

In Nick's free time he enjoys going to the movies, 3D printing, video games, off-road mountain biking, rock concerts, playing music and so much more. He's always on the lookout for new ways to make life interesting.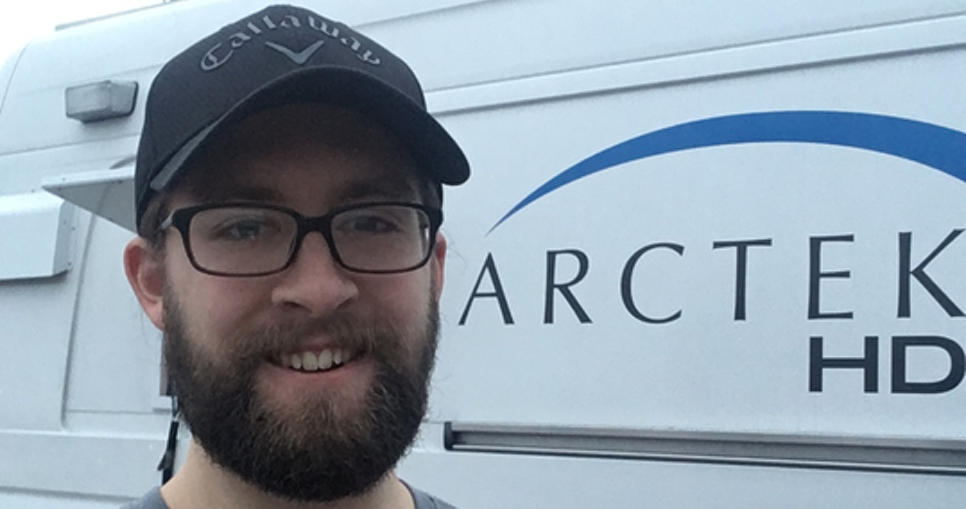 Get to know Trevor
Trevor is a lifelong Minnesotan, born and raised in the St. Cloud area. He studied at St. Cloud State University in their well-known Mass Communications program with an emphasis in Television Production. In his time at SCSU Trevor learned many facets of the television industry and excelled in shooting and editing.


Trevor joined ARCTEK as an Uplink Engineer in the Fall of 2017. He's a natural with satellite technology and has a solid understanding of audio and HD signal flow. Plus he isn't afraid of putting in a hard day's work.


In the summer months Trevor also shoots concerts and music festivals. If he had his own tour shirt it would be filled with a bunch of A-list bands such as KISS, Keith Urban, Alice Cooper, Thomas Rhett and Paramore. Rock on Trevor!


In his free time Trevor enjoys fishing, playing guitar and basketball as well as hanging out with friends.


Get to know Neil
Neil began his journey in the world of television in 2013 when he joined St. Cloud State University's television program. He started in front of the camera as a weekday news anchor for UTVS News, but quickly realized his passion for TV was behind the scenes. Neil spent time shooting, editing, producing and directing different shows on campus. His favorite experience was directing the award-winning Husky Productions broadcasts of St. Cloud State men's hockey games.
Neil joined ARCTEK as an Satellite Truck Uplink Engineer in the Fall of 2017. He's a talented TV professional and absorbs technology like a sponge. Since he's one of two Neils on the ARCTEK team he's also known as Neil Young around the shop.
Neil also works as a LED screen technician and handheld camera operator for regional music festivals. His favorite acts to shoot include KISS, Alice Cooper, Lynyrd Skynyrd, Travis Scott, Gucci Mane, Keith Urban, and Thomas Rhett. If you follow Neil on social media you may get to hear him singing or bobbing his head to his latest jam.
Neil enjoys taking pictures and shooting video, reading, singing to country music in the truck, learning new things and traveling to new places. ARCTEK is happy to help Neil get plenty of time for the singing, learning and traveling!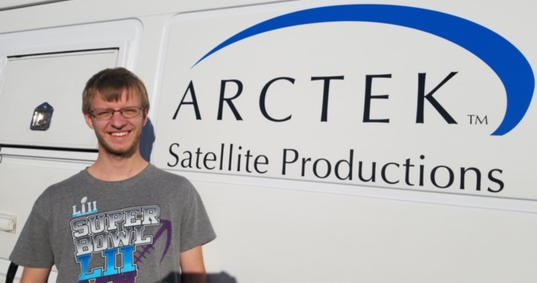 Get to know Ryan
Ryan attended the University of Wisconsin Platteville from 2012-2015 before transferring to St. Cloud State University. He graduated in 2017 with a Bachelor's of Science in Mass Communications with a Emphasis in Broadcast Production and a Minor in Network Applications and Software Packages.

From 2017-2018 Ryan freelanced in both broadcast and live events around the Twin Cities. Highlights include working the US Mixed Doubles Olympic Curling trials in December of 2017 and winning an Emmy with the NFL Network show Good Morning Football during Super Bowl LII.

In August of 2018 Ryan joined Arctek. Where you will find him on Green.

When Ryan isn't traveling you can find him camping, bowling, baking cookies, and spending time with family and friends.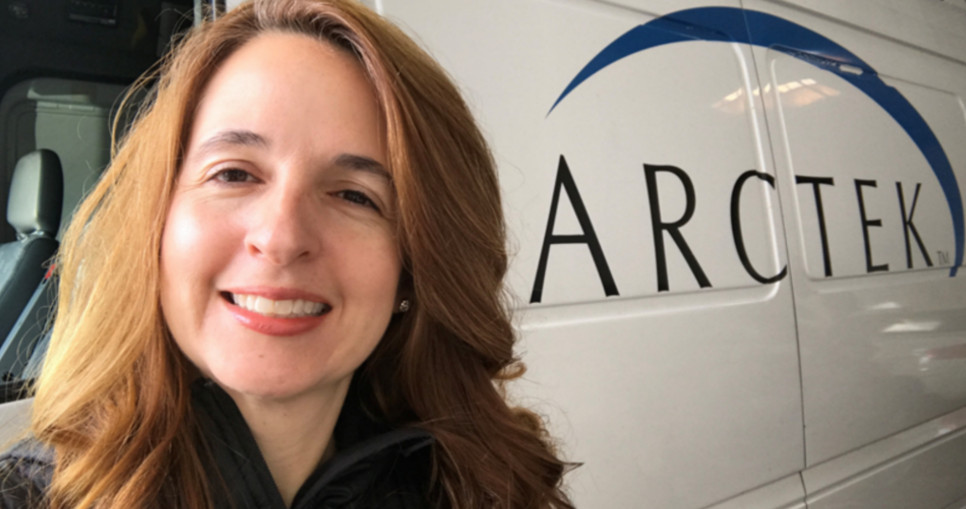 Julie Kay
Administrative Services Manager
Learn More
Get to know Julie Kay (a.k.a JK)
JK's earned her psychology degree at St. Cloud State University where she met Brian in the early 90's. She realized very quickly that working in TV is a lifestyle not just a career. From the point of that realization she took every opportunity afforded to her to learn the lingo, understand the necessary commitment to be successful and become a knowledgeable outsider.


In 2010 she joined the ARCTEK team in a supportive admin position. She provided a sense of organization amidst the constantly moving parts of the ARCTEK machine. After Brian became the sole owner in the summer of 2016, JK made the decision to change her full time focus to ARCTEK after a 22 year career with Opal Services, a company that provides residential services to adults with intellectual disabilities and mental health challenges. Although her official title at ARCTEK is Administrative Services Manager with a majority of her duties being categorized as "back office", she has taken ownership of washing and cleaning the trucks and even doing a few runs as a driver. JK believes that success requires hard work and she's no stranger to putting in long hours to be sure even the little things get attention.

In her free time JK is a diehard Minnesota Vikings fan. She loves playing fantasy football, paddle boarding, listening to and growing her vinyl record collection, mountain biking, traveling (especially to Cozumel) and spending time with her family, friends and Z, unofficial ARCTEK mascot and the world's greatest cat.